You want to get married. And you want to bring your guests somewhere out of the ordinary. And money…eh, you're not hurting.
The criteria: must be close to home (meaning one flight and a short one at that). Not too far from the airport – you want to be off the plane and in the pool within an hour or so. And, most importantly, you'd like some heaven on earth.
Cabo San Lucas brings up images of drunken college kids obviously, but situated 15 minutes along the baja coastline lies the famed Las Ventanas al Paraiso. Nestled among some equally noteworthy brethren, we had heard whispered rumors of this place and our anticipation was stoked with each "Wow, you're going to Las Ventanas." 
Just over 2 hours flight from LA or Dallas, the whole Baja tip benefits from ease of accessibility. (Easily forgotten … sit as close to the front of the plane as possible to get you through customs in good time.) The airport is modern and clean and fortunately you still board outside via the tarmac. Damn the jet bridge for ruining the glamour of travel! Inside the customs hall we noticed that even the security people seem relaxed, polite and friendly…a good omen.
Outside, past the not-overbearing milieu of cab drivers soliciting business, we find our driver, Sergio. Whisking us to the chilled cabin of a Mercedes, stocked with everything from the newspaper of your choice to cold cold welcome Coronas we are on our way … a short 20 minute ride through the Baja desert to the gleaming Sea of Cortez. Sergio is a wonderful guide – we find out later he is the Head of Transportation for the resort – and the first of every person we meet from Las Ventanas who can answer every question whether it be "how is this artisanal cheese made?" to Kristin's mandatory "where are the local prisons?"
Pulling up at the (unmarked) driveway…
Staff in gleaming white and clay brown uniforms are en masse to greet you … a foaming margarita shot is in your hand. Your eye tries to take in what cannot really be shown in photos … the landscape, the immaculate white walled abodes, a empty, languid pool that winds out towards the ocean, surrounded on all sides by gentle cacti-adorned slopes. There is no front desk. The hotel, we are told is full … all 71 rooms and the 18 residences used as hotel rooms … but we might as well be the only ones here.
Mario, our butler, takes us on a brief tour of the upper areas … a collonade of artisan and craft shops, the fitness center (which we get away from fast because no gym on earth is taking up our time this week) and the tequila/ceviche/sushi bar that sits to one side of the little valley created by garden and buildings. We're fans of the ocean front room so we were a little skeptical when we were led to an elevator in an (albeit very lovely) 5 story building in the rear of the property. Sailing up we entered the penthouse suite which serves as owner Ty Warner's private accommodation.
We can only wonder what we had done to deserve this.
We've been blessed to have been hosted by some amazing properties over the last fifteen years but this was unparalleled.
A grand entryway gives over to a spacious living room. Adorned with local art, sculptures and florals, the eye is drawn to one of three outdoor sitting areas with panoramic views of the coastline and the resort. An excellently appointed kitchen was prepared (as all the rooms are) with a tequila station for arriving guests. Without the pesky building codes of American hotels, huge windows in the bedroom slide open to bring the warm coast breezes in.
Best of all, up a tiny spiral staircase, an incredible rooftop deck with lounging space for 8 people and a hot tub literally gives you that top-of-the-world feeling. Can they abandon all safety codes and put in a zipline from here to the pools?
Hastily unpacking we sat down to the step-by-step tequila tasting. A variety of salts, nuts, seeds, chocolate, along with instructions gave us a 30-minute decompress before heading out. Take this time … you feel like you are stepping through a portal from ordinary life to paradise. Or maybe it was the tequila…
There are several pools. Both the private residences have them adjoining. Our building had a small one. There's an unheated one that as previously mentioned joins the arrival area to the main pool / restaurant spaces. This one, brisk at first, is pure heaven … if only because it appears to be empty most of the time. The main infinity pool swims up to one of the bar/restaurant areas for that real vacation feel. There is also an adults only pool just beyond.
We bellied up to the bar and ordered fish tacos and the ceviche sampler. Do you like fish? If you've not eaten a fish taco here I swear you don't know what fish tastes like. Normally one to douse everything in Tapatio, we were loathe to even put on the freshly prepared salsas.
The ceviche was fantastic, the highlights being the sea bass and the octopus.
In the early evening we joined a hosted cocktail hour briefly where we met the human resources manager and several other mingling staff before heading down to the beach for a Guaycara dinner.
Dancing horses, indigenous fire dancers and drummers and of course a mariachi band serenaded us until sundown.
The 5 course dinner … well as expected, incredible. The freshest, cleanest beet and citrus salad. Grilled shrimp on Mexican rice. Traditional tortilla soup and a perfect flank steak with poblano peppers and local panella cheese.
We wrapped up this delight with a sampling of Tres Leches cake, a Mexican Creme brule and churros with chocolate and raspberry sauce. Beyond delicious and perfectly prepared.
We debated sleeping with all the windows and doors open but hesitated, not wanting to be devoured by Mosquitos … but there are none. In fact, apart from a couple of pesky flies that flitted around when we ate at one of the in-pool tables, I think I saw one bee the whole time. Not being fans of the insect world, this was quite a plus. So … open the doors and enjoy the breeze.
Next morning, I woke up just before sunrise and headed up to the rooftop to watch the dawn. For west-coasters, used to the sunset, there's something magical about seeing the rise of the sun over the ocean. Kristin is unmoved by such things and chose to sleep another few hours. At the same time, the moon was setting over distant Cabo.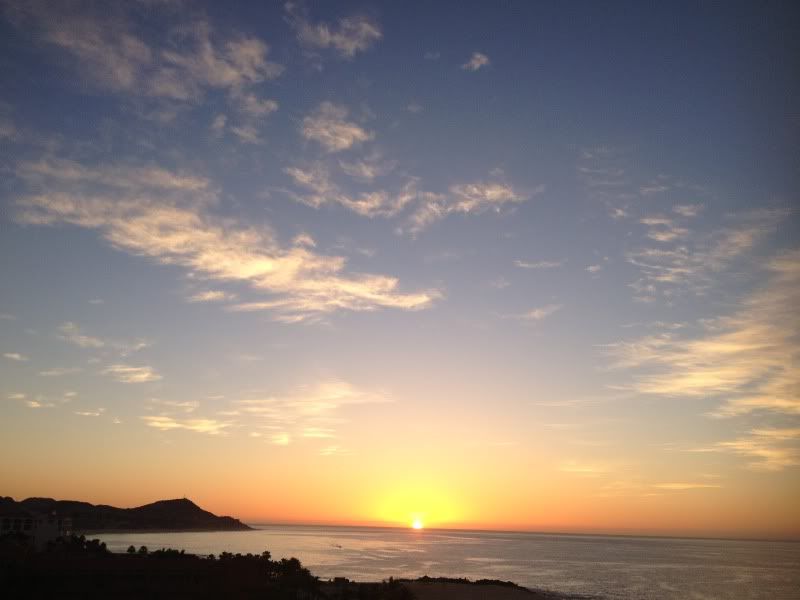 There are 3 restaurants on the property. The tequila bar, the main dining room and the more casual Sea Grill. Breakfast in the dining room (which naturally is open to the elements was a spectacular affair). I had the grilled poblano, stuffed with ground beef, chihuahua cheese and various vegetables and herbs. K had a fantastic huevos rancheros. We coupled these with a smoothie flight that was of unparalleled taste.
The view here, across the infinity pool and out onto the ocean is vision of serenity. At night, we were lucky to have an enormous full moon to light the scene. By day, it calls for a languid dining experience and if not too busy, the servers are only too happy to discuss the food, the hotel, anything.
This is a good time to stop and say just how incredibly warm, knowledgeable and gracious the entire 80-person staff was. From the maintenance and gardening people to the guest services folk, we truly felt a perfect balance between feeling like family and being pampered. I've been trying to put my finger on just how they've gotten this so right … never once did we feel like we were being "served" – on the contrary, the palpable pride and enthusiasm for what this team has created shone through – a sincere desire to share the magic of this resort was evident. From talking to Martein van Wagenberg, the resort's general manager (who's internationally recognized for presiding over some of the world's finest resorts) this seemed paramount: it stems from simply happy staff. As beautiful as the resort is, what truly made it stand head and shoulders above was the staff. A special shout out to our breakfast server Hector, our suite butlers, Claudia and Cynthia, Sergio, Mario … ah to everyone.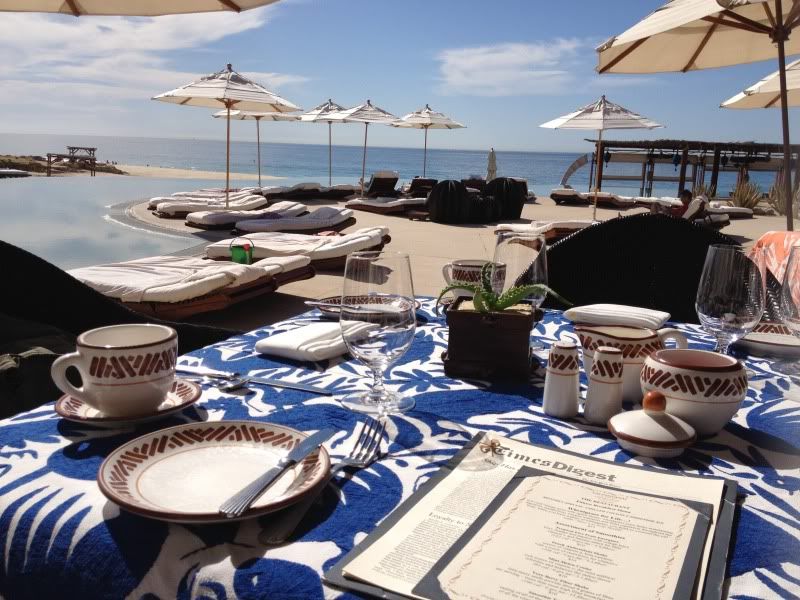 After breakfast, guided by Romance Director (of course more on that later) Mariajose and her assistant Ximena, we engaged on an exploration of the property.
The ocean-view suite is the basic room. Calling it basic though makes me want to punch myself in the face. Gorgeously appointed, it features a fireplace, a generous outdoor seating area, sumptuous bath and shower and an oversized dressing area.
The Ocean-Terrace suite, an upstairs, and larger room features a beautiful balcony and a private 2-person hot tub.
Moving considerably up in size and wow factor, the 4 luxury oceanview 1 bedroom suites contain a large sitting room, a private pool and hot tub and a dining area, perfectly suited to an intimate gathering of up to 20.
We were unable to see the three-bedroom suite but I'm going to go out on a limb and hazard a guess that it doesn't suck. There are a couple of other penthouses in addition to ours. Prices range from $600/$800 for the starting rooms to $3-$5000 for the luxury suites and penthouses.
For ceremony spaces, it would obviously be hard to top the beach. The grounds staff daily create dining spaces on the sand for anything from an intimate 2 person dinner by the waves to an outdoor vignette for larger parties, with torch lit pathways, outdoor movie screenings and feet in the sand dining. Watching the teams sculpt the pathways is mesmerizing. Throughout the resort, the beach has been included in the luxuriant desert flora landscape. Daily, like a giant zen garden, the staff manicures and rakes the sand to compliment the gentle, tranquil, flowing designs.
La Plaza is an open area above the restaurant that can accommodate a party of about 80-100. At the beach end, a raised area is used for dinners of up to 12. Can I just stop mentioning the view? It's Beautiful. Everywhere. Let's just take it for granted from this point on!
The terrace is an interesting space. A darker, more formal meeting-cum-dining room that can hold around 35, it opens up to both a second room, capable of holding another 20′ and to the actual terrace space where presumably either 50 could be held, or lounge spaces could be created.
Finally, there is the herb garden, which can serve as both a dining or reception space or in one case was used by a chef-bride to cook and entertain her wedding party. Cooking lessons take place here on Saturday mornings and guests can be walked through the hotel cuisine's secrets. Perfect for cooking lessons and private parties to experience yet another special nook of the property.
Any number of the larger suites are perfect for entertaining 20-30ish guests as you would in your own lavish Oceanside villa. You do have one of those don't you?
Back to this idea of a Romance director. Mariajose and her staff are on call to prepare anything a bride, groom, honeymooner or vacationer might want. Whether it's moonlight horse rides, intimate dinners, tasting menus, coordinating favorite music, movies etc for an al fresco evening…that's what they do. By virtue of this, the hotel obviously sees itself very strongly as a destination for couples which we believed to be completely merited.
Interestingly however, and no doubt as it was spring break, there were a significant number of young children and families at the resort. From talking to Martein, he feels this might be something to both promote and to warn against for prospective honeymooners during key holiday time frames like December and March. As parents of a 6 year old we don't care and honestly all the children were delightful, respectful and incredibly well behaved. Bravo parents. No screamers or crying here. We forgot our 6-year old…sorry kid.
For lunch we tried the tequila bar. Twice a week tequila lessons take place here and we were sorry to miss one as our thirst for the agave spirit has multiplied manyfold after this trip. Exceptional blended mojitos and margaritas were complimented by a couple of new ceviches. The Parrotfish, in coconut milk was phenomenal – there are no words to even do it justice. The tuna, the freshest we've ever had in all of our days, was even more amazing once we add a little crushed habanero.
A note on the cuisine: Upon his appointment to Las Ventanas, Martein encouraged the chefs to revamp the international cuisine to more prominently feature authentic Mexican dishes. Each chef prepared home grown dishes: childhood favorites, grandmother's special … (fill in the blanks) etc and then the dishes were refined to to a lighter international palate. The results in many cases is a simple, yet sensational take on the old. Even with the one meal I had that was just short of excellent (striped bass that was slightly overwhelmed by its accompanying stew) there was no ignoring that the fish was cooked flawlessly. Our favorite dishes were without question the regional dishes thus we felt that this choice was brilliant.
The intriguing wine list features everything from a perfectly acceptable $40 half bottle of Argentinian malbec to 1982 Chateau Petrus. If (like one apparent guest) you've just been released from French Prison – wrongly accused I am sure – why not celebrate with a brace of bottles at $32,000 a piece. There's a small selection by the glass also. We neglected to talk to the sommelier – our bad.
After the tequila bar, we adjourned to the spa for a couple's massage. Seeing that we were cursed with limited time, we did not linger before or after in the spa but it felt unpretentious and soothing. A gentleman playing chime bowls in the waiting area to signal the hour was a great touch and the whole space felt like a secret hidden oasis. Our massages were performed in rooms open to the gorgeous natural surroundings but still completely private. We were constantly met with a little fresh juice shot or some sort of special snack, making us feel so incredibly pampered.
At dinner, yet more of the extraordinary service was at hand. Kristin had barely sneezed than a box of Kleenex and disposal basket were offered. When a crumb went down the wrong way and I gave a tiny cough, I half expected to be pulled from my seat, given the heimleich maneuver, wrapped in a blanket, fanned with reeds and carried to bed. The same happens poolside – you only have to stand up to stretch and your towel is whisked up, folded, smoothed out and ice buckets of water and Evian face mist replenished, all in the blink of an eye.
The final morning I walked down to the ocean. Swimming is not recommended. The waves are strong, the undertow omnipresent and the sea floor drops precipitously. Had we more time I would have ventured a few minutes away to a snorkeling area. Obviously this and all the abundant activities are on hand with the merest mention to the staff. Every morning at breakfast, on the back of your abbreviated NY Times or other local paper, the Las Ventanas News details a selection of activities. We're truly sorry we didn't get to experience more but with so little time on hand we wanted to see the premises from the standpoint of hosting a wedding, taking a honeymoon, or even from a corporate view.
If you want to experience luxury, serenity and relaxation, want to get the hell out of the USA, be surrounded by wonderful people but don't have a week to spend getting over jet lag, you can't do better than Las Ventanas. For the ease of combining an event with an experience, the resort is perfect. Although the leanings are towards a romantic getaway, we talked to a couple of larger groups making the trip together and all felt that the gentle pace, the focus on cuisine and – let's be honest – the wonderful experiences one can have learning about the art of fine tequila consumption made for a fantastic 3 or 4 night experience. Just enough time to relax. Just enough time to explore and drink in the magic and still some time to embark on a couple of adventures … and the whole time, knowing that your happiness is paramount to the people around you.
We were forced to leave. Kristin (perhaps with Mariajose or Claudia's help) romanced my ass into Sergio's waiting car with a mojito as otherwise they might have had to restrain me and throw me in. Numerous members of the staff – our new friends Martein, Mario, Claudia and Mariajose among them waved us off. At the airport, quite unneeded but welcome, was one last Las Ventanas staffer to escort us from curb through to security. Then we're out on the tarmac, Kristin's yelling at me for not wearing sunscreen and the dream is over. Knowing that from the penthouse door to our own porch is under 6 hours though … that's a tiny comfort.
---
You might also like